Erugsdirect complete rug selection
Welcome to Erugsdirect website. You can find the widest selection of authentic handmade rugs from all around the world. Make use of our Winter promotion as some of our products are discounted up to 75%.
We are open from Monday to Saturday, 10AM to 6PM
We can arrange to open on Sundays on appointment.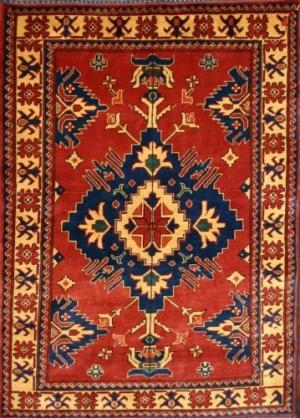 HANDMADE RUG
- Afghanistan is one of the leading producers of handmade rugs in the world. Afghan rugs are genuine, charming and usually phenomenally inexpensive. One of the most exotic and distinctive of all oriental rugs is the Shindand and Adraskan (named after local Afghan villages) woven in the Hairat area in western Afghanistan. Strangely elongated human and animal figures are their signature look. Most of the weavers in Afghanistan are the Ersari Turkman. But other smaller group such as Chub Bash and Kizil Ayaks are also in the line of weaving rugs. In addition Uzbeks, Kyrgyz, Kazakhs and Arabs label their rug according to their ethic group. Various and other natural dyes are used to produce the rich colours. As a chemical colour they use copper sulphate, ferrous sulphate, or tin and urine. Tribal rugs are almost always done on the horizontal or ground loom. This is due to the fact the nomads rarely remain in one location for more then two months. A Turkman woman will usually take at least six month to finish a rug 6 feet by 4 feet. The loom there fore can be set up and taken down four to six times before a rug or kelim is finished colour of Afghan rugs are mainly Reds (Madder-root of modern plant- ranges from reds to Orange and Purple. FREE DELIVERY ON THIS RUG within UK mainland.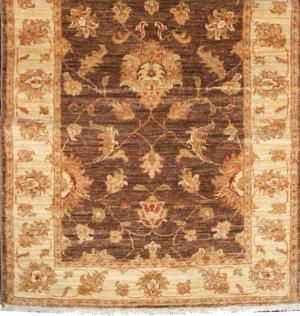 HANDMADE RUG
- Ziegler is the name of a design rather than an actual city or tribe. Ziegler design rugs are sometimes known as Chobi rugs or Peshawar rugs. A German company based in Manchester (England), Ziegler and Co. commissioned the development of the original Ziegler rugs back in 1883. Using leading designers and master weavers from Iran and Europe, Ziegler and Co. managed to create a design using softer palettes than those typically found in Persia. Ziegler rugs were designed with the western market in mind and fit perfectly into almost any home. Based on a softer version of the Sultanabad design their muted colours using vegetable dyes and simple, yet striking pattern fit well with modern neutral colour schemes and both contemporary or traditional furniture. The weaving of Zeigler rugs began in the Arak provence, however, they are now made all over the Persian region. Zeiglers have re-introduced vegetable dyes back into Persian & Oriental weaving after the popular use of chemical dyes since the start of the 20th century. Although their knot count is not generally high (around 80-120 KPSI), the hand-spun Ghazni or Himalayan wool used is of high quality and the structure very durable. Ziegler rugs are possibly the most popular and sought after handmade rugs in the UK due to their gentle tones and softer patterns - there are not many rooms that would not be improved by a Ziegler rug. FREE DELIVERY ON THIS RUG within UK mainland.
Pages