Bokhara rugs
In the carpet world, ​Pakistani rugs​ have become some of the most sought after items—their hand-knotted carpets and antique dyeing styles have reached the homes of many.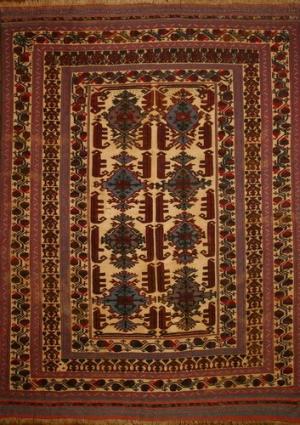 HANDMADE RUG
- Semi-nomadic and settled tribesmen of Indo-European, probably Pashtun ancestry, who speak Farsi (Persian) and mainly inhabit western Afghanistan are addressed as Muashwanee. They are closely associated with an all-over scheme based on concentrically expanding hooked-diamonds or zigzags. Mushwanee rugs are generally of excellent quality and are very high in demand as they give a tribal look in the house and are ideal for the heavy foot traffic area, made with wool on wool embossed village design and are 100% hand knotted. In this rug the beautifully designed border with a decorative central pattern makes it really attractive. The colour of the rug brings a welcoming feeling. The brown colour goes really complimentary to the off white, beige and maroon colour on the rug. The price is very reasonable compare to the design and thought that has been put into it. The rug is worth the money because of the nice colour, velvety feel and natural softness. In this rug it is contrasted masterfully creating a uniformed geometric pattern around the central medalion. A fine Mushwani can evoke an essence of persian regalia and add a touch of eastern charm and class, though can also look quite fitting in a more humble and simpler decor. Free delivery on this rug in UK mainland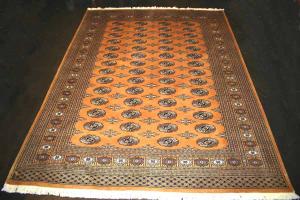 HANDMADE RUG
- It has a nomadic look, excellent visibility and is gorgeous carpet/rug. They go well with contemporary, traditional, and modern decors and are highly sought after in western houses. It has tribal patterns and a very warm look, resulting in rich and beautiful look, warm underfoot and velvety feel.
The overall consensus toward a Pakistani rug is highly positive due to their durability, comfort, and stunning designs. Among the realm of Pakistani rugs is the ​Bokhara, or Bukhara​--a fantastic and highly original Oriental rug.  Bokhara rugs were initially made by nomadic tribes and eventually crafted in both Pakistan and India. Bokhara itself was a very important trade center in Turkestan—as carpets were collected from there, they adopted the town's moniker as their namesake. At the moment, Bokhara carpets are considered a highly popular item on the market.
A Bokhara is constructed with hand woven Persian knots. The foundation of the rugs is of wool. A single rug takes almost 5-6 months of time to be assembled from scratch.
Bokhara rugs are woven exclusively with a variety of patterns and colors. A common design incorporated into a Bokhara is "the elephant's foot". "The elephant's foot" design is a traditional design that is executed where it is ideal, as too much of a single pattern would make any given interior look fussy and chaotic. There are other different types of Bokhara rugs. Several of them employ a zigzag margin around a row of either conjoined rhombus medallions or floral patterns in the center.
These rugs, especially those originating from Pakistan and India, can possess various tones of tan, orange, light and dark blue, green, blue, and even gold. When it comes to their appearance, Bokhara rugs tend to be exceptionally magnificent. The splendid array of colors evoked stem from dyes that are made naturally using local products and tree bark.