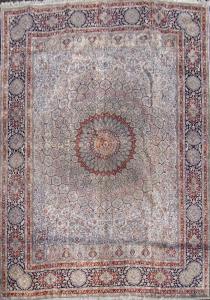 Fine Persian Silk Tabriz Rug
Free shipping
30 Days Money back guarantee
100% Satisfaction guaranteed
Price includes VAT. Free UK\NI delivery
Tabriz rugs, from the city of Tabriz in the north west of Iran is one of the oldest rug weaving centers and makes a huge diversity of types of carpets. The range starts at Bazaar quality of 24 raj (Number of Knots per length of 7 cm of the widths of the rug) and on up to the incredibly fine 110 raj. Raj are the units of knot density (it shows the fitness of the rug which based on the number of strings used for the foundation of the rug. Strings materials are usually made of cotton or silk which is used for very fine rugs).
Tabriz has one of the most diverse displays of designs from medallion, Herati/Mahi, to figural, pictorial, and even 3-d shaped rugs. In the example above we can see how the focus of all the objects around the rug lean towards the central medallion.
Tabriz has been a large and worldwide famous carpet making center in Iran and the world. It played a significant role in the development of the rich traditions of the decorative and applied arts and carries a long-established history within it.
Size:
250 x 350cm (8ft 2" x 11ft 5")
Field Colour:
Beige,blue,red,white & others