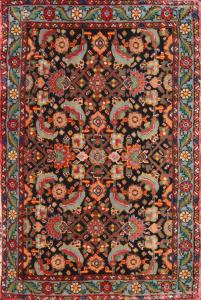 Persian Tabriz silk (70tb1913)
Free shipping
30 Days Money back guarantee
100% Satisfaction guaranteed
Price includes VAT. Free UK\NI delivery
The beauty of the rug will catch anyone's attention. The detail oriented pattern, design makes it extremely valuable and
this surely is one of the finest looking rugs in temrs of quality, design and value for money.It has a nomadic look,
excellent visibility and is gorgeous carpet/rug. It has a very welcoming look, warm underfoot and velvety feel to it. This
rug as with all our rugs are a class above what you will find anywhere online. We pride ourselves on providing a unique
experience of owning an authentic piece of eastern culture.
Size:
47 x 72cm (1ft 6" x 2ft 4")